Through the summer the Museum of Farnham is offering a programme of events, diversifying into art and music as well as history.
For most events booking is essential, click on the relevant link to visit the Museum website and book your tickets.
25th June: Anytime Artisan Craft Market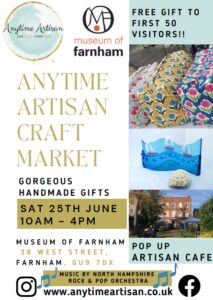 Not ticketed
Come and explore a range of stalls, featuring unique, handcrafted products from local artisans. Enjoy cake and coffee from the museum café and relax in the beautiful setting of the museum's Garden Gallery and walled gardens. There will be music from the North Hampshire Rock & Pop Orchestra.
The first 50 visitors to the market will receive a free gift.
Live Local – Love Local
16th July: Summer Sessions, Megan Allen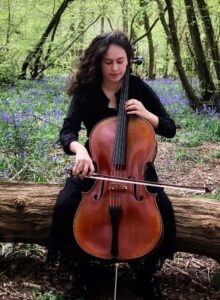 Cellist Megan Allen opens the museum's summer sessions with a performance including Bach 6th Cello Suite Prelude, Cassado Suite for Solo Cello, Bach 3rd Cello Suite and Julie-O by Mark Summer.
Taking place outside, this concert allows you to enjoy the peaceful setting of the museum's walled garden. Soak in the sounds of the cello surrounded by colourful flowers, climbing ivy and tall trees. Indulge in a glass of Prosecco, wine, beer or soft drinks from the pop-up bar and discover one of Farnham's best kept secrets at this lovely event.
30th July: Bard in the Yard
William Shakespeare is stuck. Like, really stuck. He is trying to write a new masterpiece, and he has the weight of his company's return to the stage on his shoulders.
Help Shakespeare write 'The Scottish Play' in this "irresistible" (The Guardian) new play, with Helen Mirren's stamp of approval.
"Bard in the Yard is a simply wonderful project which brings Shakespeare to everyone, delivering humanity, connection and inspiration just when we need it the most. If you're looking for an unforgettable theatrical experience, I highly recommend it." – Dame Helen Mirren
"This interactive solo is irresistible, everyone watching is in hysterics" – The Guardian
20th August: Summer Sessions, Clara Gatti Comini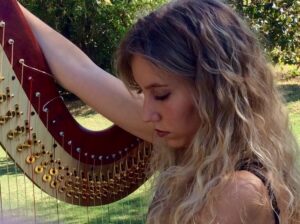 Enjoy the beautiful sounds of award-winning harpist Clara Gatti Comini in the tranquil setting of our beautiful walled garden.
Clara is an Italian harpist studying as a Trinity Laban Conservatory of Music and Dance scholar under the guidance of Professors Gabriella Dall'Olio and Frances Kelly. In 2021 she completed the Bachelor's Degree in Harp with First Class Honours. She is a winner of the John Marson Prize for Outstanding Musicianship 2021/21, the Cherubim Music Trust Harp Prize 2020, and holds third prize at the London Camac Harp Competition 2020.
Since 2019, Clara has been a member of the Young Musicians Symphony Orchestra, performing at St. John's Smith Square and Cadogan Hall. She is reserve for the European Union Youth Orchestra 2022.
This concert takes place outside. There will be a pop-up bar with wine, beer and soft drinks available to purchase. Bring a picnic along and indulge in some refreshments from our bar.
Whilst all of our events are family friendly, we have also organised a number of events specifically targeted towards children, below.
3rd August: Museum Workshop: Artefact Artists
Come and join us in the Garden Gallery where we will be creating some observational artwork inspired by the museum's archive of rarely seen costumes and accessories borrowed from the bygone days. Your child will learn a range of painting and mixed media techniques and will create a beautiful piece of historically inspired art to take home.
All materials provided. Suitable for children 7 – 13 years.
There is no charge for these sessions, made possible with funding from the South Street Fund.
10th August: Museum Workshop: Potty About Archaeology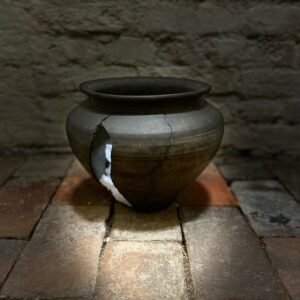 Dr. Anne Sassin-Allen from the Surrey Archaeological Society will be sharing her extensive knowledge about 'archaeological digs' and leading activities exploring excavated pottery.
All materials provided. Suitable for children aged 7 – 13 years.
Booking essential to confirm your place.
17th August: Museum Workshop: Meet a Saxon
Experience life in Fearnhamme, aka Anglo-Saxon Farnham!
Through an interactive session, you'll learn about food, health and everyday life in a Saxon settlement. You'll hear about some truly terrible medical conditions, carry out diagnoses and order some gruesome treatments.
And finally, you'll get to dress and train with an Anglo Saxon warrior, and experience elements of battle.
Suitable for children aged 7 – 13 years. Booking is essential to confirm your place.
Full details on the Museum website